Archeology. Univallate hillfort
Mowsbury Hillfort

Although the slight univallate hillfort at Mowsbury Hill has been somewhat disturbed by medieval and modern activity, it remains one of the most interesting examples of its kind in the region. The perimeter defences (partly incorporated into the later medieval settlement) remain visible on the ground, and sample excavation has demonstrated the existence of well preserved deposits within the buried ditch and, most significantly, the rare survival of evidence for the timber construction of the rampart. The fort's interior will contain further buried remains, providing insights into the function of the hillfort and, as within the bank and ditch, containing dateable material illustrating period of construction and the duration of occupation. The medieval moated site within the ramparts of hillfort is one of around 6,000 sites of this general type known in England. The wide ditches which characterise this class of monument were often water-filled, partly or completely enclosing one or more islands which contained domestic or religious buildings.
The moated site at Mowsbury Hill is an extremely well preserved example of its class of monument. Its largely undisturbed interior will retain buried evidence for the structures and other feature related to the period of occupation. The ditches will also contain valuable artefactual evidence especially as the waterlogged silts provide conditions suitable for the preservation of organic objects. The fishponds are a characteristic
feature of this class of the medieval settlement, used to maintain a sustainable food supply. They are a significant component of the site, providing an indication of both the diet and social standing of its inhabitants. The silts within the ponds and the buried connected channels will contain further artefacts, and (as with the main ditches) retain environmental evidence illustrating the appearance of the surrounding landscape during the period of occupation.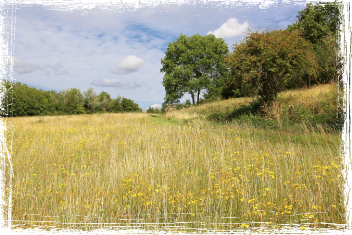 It has been suggested that the Courtyard Meadow was used as a garden during the medieval period but has been mentioned in some documents as a milking yard. Today common spotted orchids and other wild flowers flourish here. ///
w3w.co/letter.emporium.harp
The meadow to the north of the hillfort has been used for clay and brick manufacturing,
turf cutting as well as agriculture over the years but now Mowsbury Hill Meadow is managed as a wild flower meadow. /
//w3w.co/occur.birthing.masters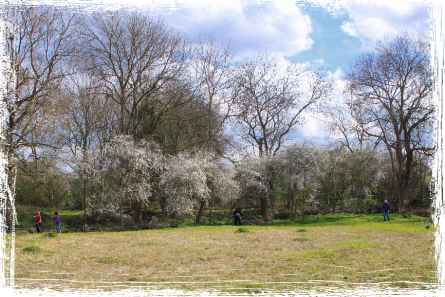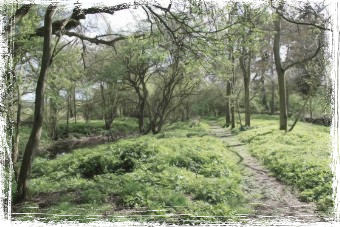 Running parallel and to the North of the Courtyard meadow the Iron Age ditches were converted in the medieval period into a series of ponds for the breeding of fish and used as a food source. The moated Island adjacent to the ponds was also a medieval addition to
the site. ///
w3w.co/charging.flooding.towels
The Inner Island was cleared by the friends Group in 2012. It is the possible recorded site of the Manor of Morinsbury built in medieval times by Ralf Morin. A 'L' shaped trench was discovered, this is thought to be a robbers ditch ( Brick or stone removed or robbed for other purposes) but could be a drainage ditch or alike for the manor house.The present name 'Mowsbury' probably evolved from Morinsbury and Mossbury. ///
w3w.co/alarm.supported.hopes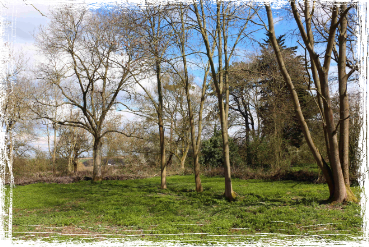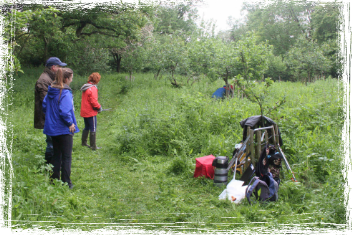 Two orchards were planted in the 1920's and extended in the 1970's, apple, pear, service and meddler with plum and sloes on the perimeter of each area. In 2012 a restoration and maintenance plan begun to save as many of the mature trees as possible and a number of new trees were planted to replace those that had been lost over recent years
. ///
w3w.co/clockwork.inflame.usual